Are you ready to take your career to the skies? Singapore Airlines is looking for service stars to join our esteemed cabin crew team! We're holding interviews in New Delhi, India, and if you fit the bill, we're excited to meet you.
What We're Looking For:
Exceptional fluency in English and top-notch communication skills for serving our global customers.
A friendly demeanor and a passion for providing outstanding service.
Minimum height requirement: 1.58m for females and 1.65m for males to perform safety and emergency duties effectively.
Bachelor's Degree holders from reputable universities.
Eagerness to move to Singapore and embrace new beginnings.
Commitment to a mandatory service bond – because we invest heavily in our people.
Previous experience as SIA Cabin Crew? We'd love to welcome you back!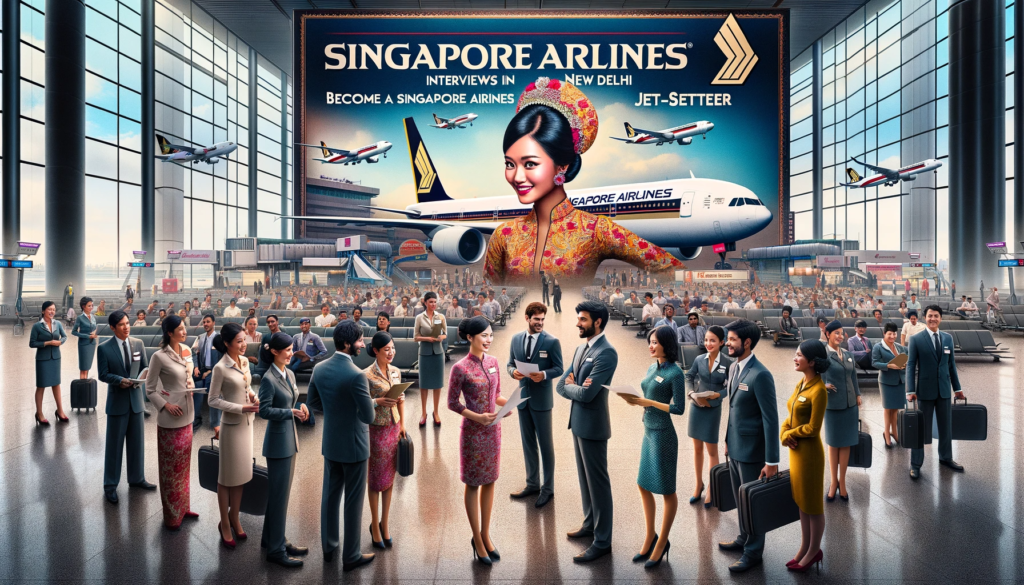 Embark on This Adventure:
Able to start the journey with us within three months from application date.
Your Path to Application:
Apply and, if selected, you'll get a link for an online video interview.
Ace it, and you're on to the final round of face-to-face interviews in New Delhi.
Remember, Singapore Airlines recruits directly and does not authorize third parties to conduct recruitment on our behalf. Always apply through the official Singapore Airlines career page for authentic information and opportunities.
We appreciate the interest of all applicants, but only those shortlisted will be contacted. So, if you have the wings to fly with us, apply now and let your cabin crew dreams take flight!
Don't miss this boarding call to your dream job! Apply now and join the Singapore Airlines family!
---
🔥 Your Chance to Soar: Singapore Airlines Cabin Crew FAQs! 🔥
Q: What lingual prowess should I bring to the skies with Singapore Airlines? A: Fluency in English is your passport to the skies! Strong communication skills are essential for catering to our international flyers with grace and ease.
Q: Does personality contribute to my altitude? A: Absolutely! A vibrant personality and a service-minded spirit are your in-flight accessories that never go out of style.
Q: Are there any height requirements for the role? A: Yes! Ladies should have a reach of 1.58m and gentlemen 1.65m, ensuring you can effortlessly glide through safety and emergency maneuvers.
Q: I have a Bachelor's Degree. Will it help me take off in this career? A: It sure will! A recognized university degree gives you the educational wingspan to join our elite crew.
Q: Is moving to Singapore a part of the job description? A: Pack your bags for adventure! Relocating to Singapore is a thrilling chapter in your flight diary.
Q: Do I need to commit to a service bond? A: Yes, we value loyalty and commitment. Your pledge to serve with us is part of the journey.
Q: I used to be part of the Singapore Airlines crew. Can I reapply? A: We welcome returns to our airline family. Former SIA Cabin Crew are encouraged to reapply and resume their high-flying careers.
Q: How long do I have after applying to be ready for employment? A: Your career countdown begins with a three-month preparation period from the date of your application.
Q: What's the application process like? A: Selected applicants will receive an exclusive link to complete a video interview, after which shortlisted candidates will be invited to the final interview round.
Q: How do I ensure I'm applying to the legitimate Singapore Airlines recruitment process? A: Stay vigilant! Apply directly through the official Singapore Airlines career page. Watch out for imposters and ensure your application is official.
Q: Will everyone get feedback from Singapore Airlines? A: We appreciate all our applicants, but only the crème de la crème will be notified. So, make your application count!
---
Embark on an Unforgettable Journey with Singapore Airlines – Apply Now and Let Your Career Take Flight!
For more Aviation Updates connect with us on Telegram – AviationAdda