---
Unwrap the Magic of Diwali with Vistara's Festive Sale Extravaganza! 🪔✨
Gurugram – When the festival of lights beckons, Vistara answers with an offer as delightful as Diwali itself! Prepare for an aerial celebration with Vistara's Festive Sale that promises to make your journey home, or to any corner of India's domestic bliss, a euphoric experience with fares that start at an unbelievable INR 1999!
🛌 From Economy to Luxury: Book Your Diwali Delight!
| Class | Celebratory Fare Starts At |
| --- | --- |
| Economy | INR 1999 |
| Premium Economy | INR 2799 |
| Business | INR 10999 |
⏳ Timing is Everything: Grab the Deal While it Glows!
The booking window is as limited as the number of diyas on Diwali night – you have from the stroke of midnight on 07-November-2023 until the twilight of 09-November-2023 to secure these scintillating deals, valid for travel all the way through 10-April-2024.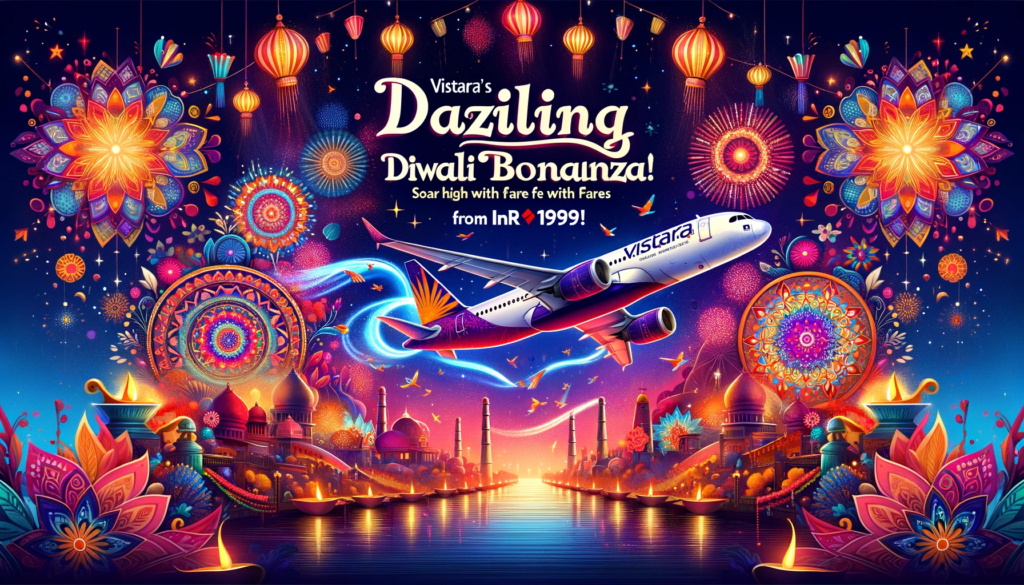 🌐 Seamless Booking: Your Gateway to Joy!
Embrace the ease of technology by visiting Vistara's website, using their intuitive mobile apps, or dropping by Vistara's Airport Ticket Offices (ATOs). Prefer a more personal touch? Their Call Centre and network of travel agents are at your service.
💖 Why Fly Vistara This Festive Season?
It's not just about the destination; it's about the joyous journey. Vistara ensures that your trip is filled with the warmth of festivity and the charm of savings. Their Festive Sale is the perfect prelude to your Diwali tales of togetherness and joy.
📜 Terms Simplified for Your Ease:
The Festive Sale waves its wand for one-way journeys on direct flights within the Indian skies.
The base fare is subject to this magical reduction; ancillary charges will still apply.
A mere 5% of seats are adorned with this festive offer, so act swiftly!
Should the sale seats sell out, normal fares will resume.
🛑 What's Not Part of the Festive Revelry?
Corporate discounts and Vistara Direct benefits take a back seat as this sale dances solo. Also, these tempting fares are non-refundable, except for the fully refundable taxes and fees.
🎈 Vistara: Your Carrier of Festive Cheer!
Clad in their signature aubergine and gold, Vistara doesn't just fly you to your destination; they elevate your festive spirit, painting your journey with the hues of Diwali.
---
🚀 Board the Festive Flight! Book Now to Turn Your Diwali Journey into a Celebration! 🚀
With Vistara's Festive Sale, you're not just booking a seat; you're setting the stage for a Diwali festival that begins thousands of feet in the air. Let not this Diwali be just about lights on the ground – book now and illuminate your skies with Vistara!
Wrap Up: The Vistara Festive Sale is the golden ticket to make this Diwali the most memorable one yet. With a kaleidoscope of cultures waiting to be embraced across India's skies, there's no better way to celebrate than soaring high with Vistara. Grab your seat before they vanish and let the festivities begin at an altitude that matches your high spirits!
Book now and ensure your festive lights twinkle both on the ground and thousands of feet above it, with Vistara's embrace carrying you home.
Note: This sale is subject to the vibrant festival of terms and conditions, so visit Vistara's website for all the dazzling details.
🪔✨Happy Flying, and Happy Diwali!🪔✨
For more Aviation Updates connect with Us.
---
Frequently Asked Questions (FAQs) about Vistara's Festive Sale 2023
Q1: What is the Vistara Festive Sale? A1: The Vistara Festive Sale is a limited-time offer where travelers can book flights across Vistara's domestic network in India at discounted fares starting as low as INR 1999 for Economy Class.
Q2: When can I book tickets under the Festive Sale? A2: You can book tickets from 00:01 hours on 07-November-2023 till 23:59 hours on 09-November-2023.
Q3: What travel period does the sale cover? A3: The sale covers travel from 07-November-2023 to 10-April-2024, including both dates. However, blackout dates apply, during which the sale fares may not be available.
Q4: Are there any restrictions on the types of fares? A4: The sale is valid on direct flights for one-way travel in Economy, Premium Economy, and Business Class.
Q5: Can I book round-trip flights under the Festive Sale? A5: The sale is applicable for one-way fares. For round-trip bookings, each segment would need to be booked separately, and sale prices apply only if the individual segment falls under the sale period and conditions.
Q6: Are there any hidden charges? A6: The fares under the Festive Sale are for the base fare only; taxes, fees, and any additional services will incur extra charges.
Q7: Is there a limit on the number of seats available under the sale? A7: Yes, approximately 5% of the total inventory is available under these special fares, and they are offered on a first-come-first-served basis.
Q8: Can I get a refund if I cancel a flight booked under the sale? A8: Discounted fares under this sale are non-refundable, except for the taxes and fees which are fully refundable. The specific refund conditions are outlined in Vistara's Conditions of Carriage.
Q9: Where can I book my tickets to avail of the Festive Sale? A9: You can book your tickets through Vistara's official website, mobile apps, airport ticket offices, call center, online travel agencies (OTAs), and travel agents.
Q10: Can I use my corporate discount or other vouchers with the Festive Sale fares? A10: No, corporate discounts and Vistara Direct benefits are not applicable during the sale, and no vouchers (except the sale promo code) can be clubbed with the sale fares.
Q11: Will Vistara's frequent flyer program benefits apply to these sale bookings? A11: Frequent flyer benefits will apply as per the usual terms and conditions, but it's best to consult the terms of the program or contact Vistara directly for specific queries.
Q12: Who do I contact for more information or if I have issues booking? A12: For more information or booking assistance, you can contact Vistara's Call Centre, or reach out via their website or mobile apps for support.