Bengaluru – A routine IndiGo flight from Jaipur to Bengaluru turned into a scene of distress and disarray when a 33-year-old man, identified as Randheer Singh, took his in-flight behavior too far. The incident, which unfolded in the air and culminated in Singh's arrest, has become the talk of the aviation world.
In-Flight Chaos: Drunk Passenger Arrested for Harassing Air Hostess!
The trouble began around 7:50 PM on IndiGo flight 6E556. Witnesses say Singh, visibly intoxicated, started misbehaving with an air hostess, persistently grabbing her hand despite her warnings. His disruptive antics didn't go unnoticed. Alarmed passengers quickly alerted the flight crew to Singh's inappropriate behavior.
Turbulence in the Skies: Unruly Drunken Behavior on IndiGo Flight!
The situation escalated quickly, with the flight captain declaring Singh an unruly passenger. This isn't just a case of a passenger having one too many drinks; it's about respecting boundaries and maintaining decorum in a public space. Singh's actions are a stark reminder of how alcohol can impair judgment and behavior.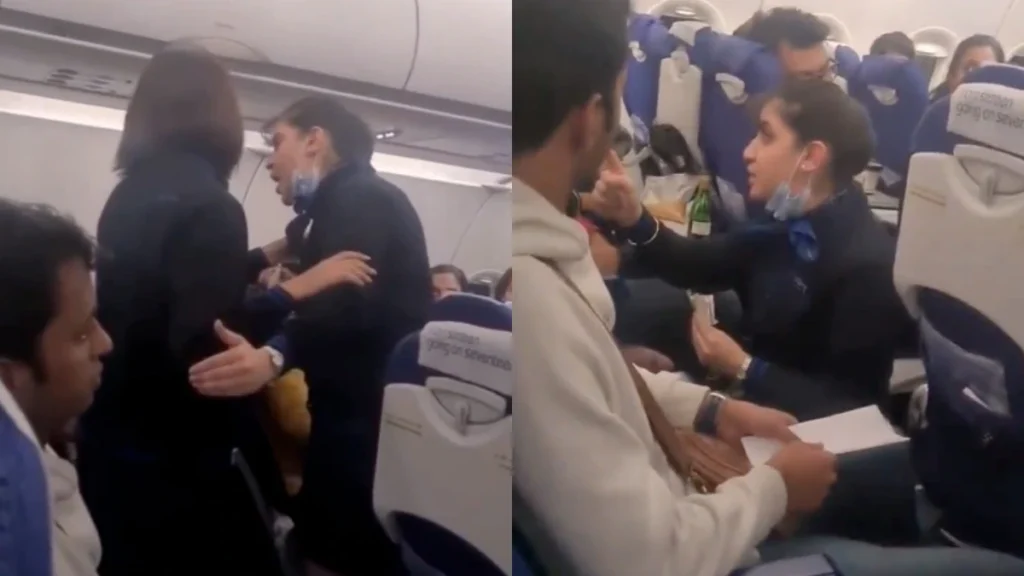 Airborne Misconduct: Passenger's Boozy Antics Lead to Police Action!
Upon landing at Bengaluru's Kempegowda International Airport, the cabin crew took swift action. Varun Kumar, a manager at IndiGo Airlines, lodged an official complaint, leading to Singh's arrest by the airport police on Sunday. The air hostess involved in the incident is yet to make a direct statement to the authorities.
The event has sparked a debate about alcohol consumption and its effects on behavior, especially in confined public spaces like an aircraft. This incident also raises important questions about passenger safety and the challenges faced by airline staff in handling such situations.
Singh, now out on bail, faces serious repercussions for his actions. This incident is a stark reminder that being under the influence is no excuse for inappropriate behavior and the importance of maintaining decorum while in the air.
Similar Incident with AirAsia in September
On a recent AirAsia flight destined for Goa, a disturbing incident unfolded just minutes before takeoff. Anil Kumar, a 40-year-old passenger, was arrested at Bengaluru airport for his inappropriate behavior toward a flight attendant.
Outrageous Behavior Mid-Flight: Kumar's Alarming Conduct
In a shocking display of misconduct, Kumar allegedly grabbed the flight attendant's hand, falsely claiming to others that she was a close friend. This act left fellow passengers laughing but the attendant feeling violated and humiliated.
Prompt Action by Airline Crew: Ensuring Passenger and Staff Safety
Reacting swiftly to the situation, AirAsia's crew escorted Kumar off the aircraft and into the custody of the police. The authorities confirmed that Kumar was under the influence of alcohol and charged him under IPC Section 354 for assaulting a woman with the intent to outrage her modesty.
AirAsia's Firm Stance: Zero Tolerance for Disruptive Behavior
An AIX spokesperson stressed the airline's commitment to the safety and comfort of passengers and personnel, stating, "We have a zero-tolerance approach to disruptive conduct on our flights."
Bail Granted, But Questions Remain
While Kumar is now out on bail, the incident raises serious concerns about in-flight safety and decorum.
A Recurring Problem? Previous Incident on SpiceJet Flight
This is not an isolated incident in Indian skies. Earlier this year, a passenger on a SpiceJet flight was offloaded for inappropriate behavior toward a female crew member, sparking a verbal altercation among passengers and crew.
Safety First: The Aviation Industry's Ongoing Challenge
These incidents highlight the ongoing challenges airlines face in maintaining safety and appropriate conduct in the confined spaces of an aircraft.
---
For more Aviation Updates connect with Us.