In a shocking turn of events, love and possessiveness take a sinister turn, leaving a trail of tragedy during Diwali festivities. Explore the chilling details of an Air India trainee airhostess and her family's harrowing fate at the hands of an obsessed colleague.
Obsession Unleashed: A Diwali Bloodbath Unveiled
Witness the chilling tale of Aynaz Mohammed, a promising trainee airhostess, brutally murdered along with her family in Udupi. The assailant, a fellow Air India crew member, turns Diwali celebrations into a nightmarish bloodbath.
The Victims: Aynaz and her Family's Tragic End
Meet Aynaz Mohammed (21), her mother Haseena M (47), elder sister Afnan (23), and brother Aseem (14) – lives extinguished in a shocking stabbing spree that rocked Nejaru village.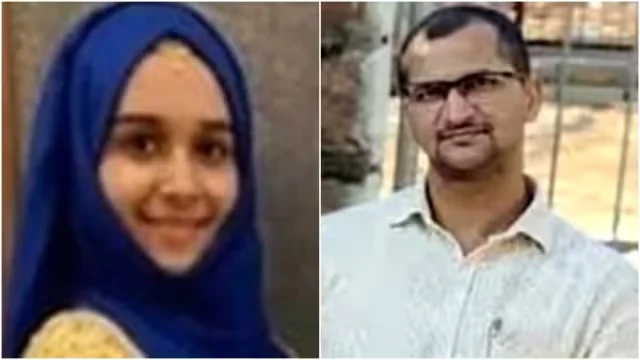 Killer's Identity Revealed: Praveen Arun Chougule's Disturbing Confession
Uncover the dark truth as police expose Praveen Arun Chougule, a seemingly possessive colleague at Air India, as the man behind the gruesome murders. The 39-year-old, driven by obsession, shattered the lives of Aynaz and her family.
Police reveal the motive: jealousy and animosity.
Diabolical Plan Unveiled: Stalking, Arrival, and 15 Minutes of Horror
Step into the mind of the killer as he meticulously plans and executes the horrifying crime, leaving no room for escape. The victims had only 15 minutes to confront the assailant who arrived at 9 am and vanished without a trace.
Police Hunt: Technological Trail Leads to Arrest
Follow the gripping investigative journey as the police trace Chougule's steps through phone records and CCTV footage. A technological puzzle unfolds, leading to the arrest of the murderer who thought he could escape justice.
The Obsession Unearthed: Chougule's Overly Possessive Streak
Delve into the twisted psychology of the killer as he confesses to targeting Aynaz due to an unhealthy obsession. Jealousy and animosity drive a seemingly ordinary colleague to commit an unthinkable act.
Chougule's disturbing past: a brief stint in Maharashtra police.
Diwali Horror: Accused Acts Normal After Bloodshed
Unmask the murderer's facade as he pretends normalcy, traveling to Belagavi to spend Diwali with family after committing the heinous act. The chilling aftermath of the murders unfolds as the accused blends into Diwali celebrations.
Family Torn Apart: Aynaz's Father and Brother Arrive for Funerals
Witness the heart-wrenching aftermath as Aynaz's father, working in Saudi Arabia, and her older brother, employed in Bengaluru, return home to confront the devastating reality and attend the funerals.
Conclusion:
As the Udupi community grapples with the aftermath of this Diwali bloodbath, questions linger about the twisted motivations that turned celebrations into a tragedy. The Air India family mourns the loss of one of their own, reminding us of the hidden dangers that can lurk behind seemingly ordinary faces.
For more Aviation Updates connect with Us.