Witness the epitome of comfort as Lufthansa's state-of-the-art A350 takes to the skies on a brand new route from Bengaluru to Munich!
---
MUNICH – A new chapter in air travel unfolds as Lufthansa rolls out its red carpet in the sky, bridging Bengaluru, the heart of India's tech revolution, with Munich, the German gem known for its cultural richness. The inaugural flight took off on November 3, 2023, and marks a milestone in connectivity between the two cities.
Bengaluru's charm, combined with its bustling tech parks and lush gardens, can now be experienced seamlessly by European travelers. Conversely, Bengaluru's citizens can dive directly into the vibrant culture of Munich, famed for its Oktoberfest and historic architecture.
Lufthansa's commitment to the Indian market soars to new heights as it adds Bengaluru alongside Delhi and Mumbai, with over 50 weekly flights weaving together India and Europe.
A New Horizon in Air Travel
Lufthansa's long-standing romance with India's skies, dating back over nine decades, continues to grow stronger. The airline proudly surpasses its pre-pandemic engagement levels with the Indian aviation market, which stands tall as the third-largest globally.
The Munich-Bengaluru route not only highlights Lufthansa's dedication but also mirrors India's rapid economic expansion, standing proudly as the fifth-largest global economy.
Executive Perspectives
Jeffrey James, the voice of Lufthansa Group's communications in Asia Pacific, asserts, "India's vibrancy is palpable, and its economic ascent is nothing short of phenomenal. Our choice of Bengaluru as the pioneer post-pandemic destination in Asia-Pacific is a nod to India's soaring global significance."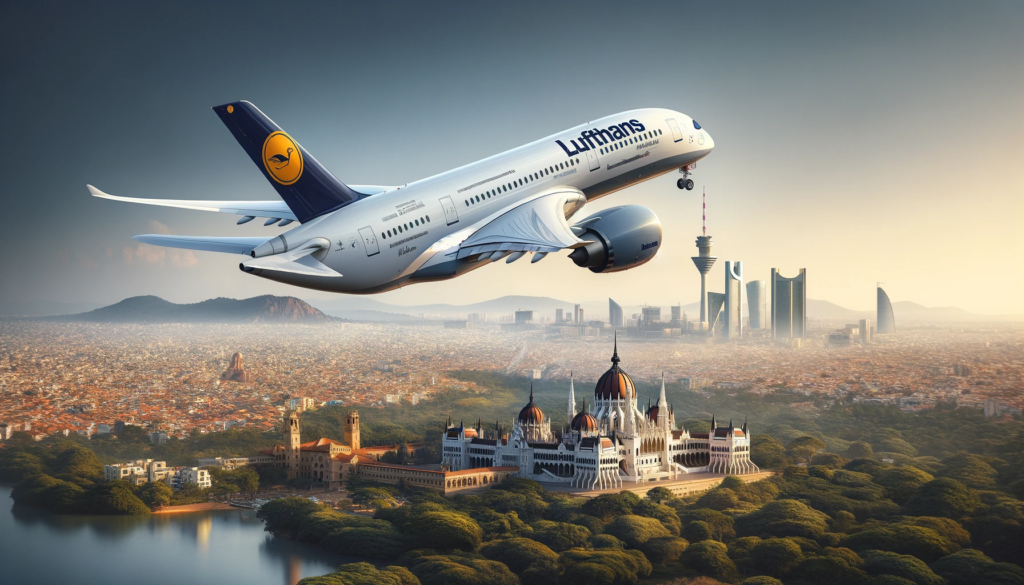 Embark on a Journey of Opulence
Throngs of passengers can now indulge in thrice-weekly flights that promise timely arrivals and departures. Experience luxury aboard the Airbus A350-900, an icon of sustainability and comfort.
Bengaluru-Munich Flight Schedule:
| Flight No. | From (BLR) | Departure Time | To (MUC) | Arrival Time | Aircraft |
| --- | --- | --- | --- | --- | --- |
| LH 755 | Bengaluru | 03:45 | Munich | 08:05 | A350-900 |
| LH 754 | Munich | 12:45 | Bengaluru | 02:45 (+1) | A350-900 |
Note: Flight times are local to each airport. Schedule is subject to changes.
Adorning this route, the A350-900 offers an unparalleled travel experience, complete with local Indian culinary delights, to ensure a cultural symphony from takeoff to landing.
---
Discover the fusion of innovation and tradition – only with Lufthansa's new Bengaluru to Munich flights!
For more Aviation Updates connect with Us.
---
FAQs – Lufthansa's new Bengaluru to Munich flights!
Q1: How often will Lufthansa operate flights between Bengaluru and Munich?
Lufthansa has scheduled thrice-weekly flights to connect Bengaluru with Munich directly.
Q2: What aircraft is Lufthansa using for the new Bengaluru-Munich route?
The Airbus A350-900, renowned for its efficiency and comfort, will be the aircraft of choice for this route.
Q3: What amenities can passengers expect on the new Lufthansa flight from Bengaluru to Munich?
Travelers will be treated to local Indian cuisine, state-of-the-art in-flight entertainment, and the distinctive service that comes with one of the most environmentally friendly long-haul aircraft.
Q4: How long is the flight from Bengaluru to Munich?
The flight duration is approximately 9 hours and 50 minutes, subject to prevailing wind and weather conditions.
Q5: Are there any premium seating options on the A350-900 for this route?
Yes, Lufthansa offers a range of premium seating options, including Business Class and Premium Economy, providing extra comfort and amenities.
Q6: Can passengers earn frequent flyer miles on this new route?
Yes, passengers can earn miles through Lufthansa's Miles & More program or other Star Alliance partner programs when flying on this route.
Q7: Is there a layover involved in the Bengaluru to Munich flight?
No, this is a direct flight with no layover.
Q8: Will Lufthansa offer any inaugural flight specials or promotions?
While the airline has not announced specific promotions, customers are encouraged to check Lufthansa's official website or contact customer service for any special offers.
Q9: What are the baggage allowances for this flight?
Baggage allowances vary by ticket class, but generally, passengers are allowed one carry-on bag and one checked bag. It's advisable to check the latest baggage policy on Lufthansa's website for specific limits.
Q10: How does Lufthansa accommodate passengers with special needs or disabilities on this route? Lufthansa is committed to providing accessible travel for all passengers. Those with special needs or disabilities can request assistance at the time of booking or at least 48 hours before departure to ensure a comfortable journey.